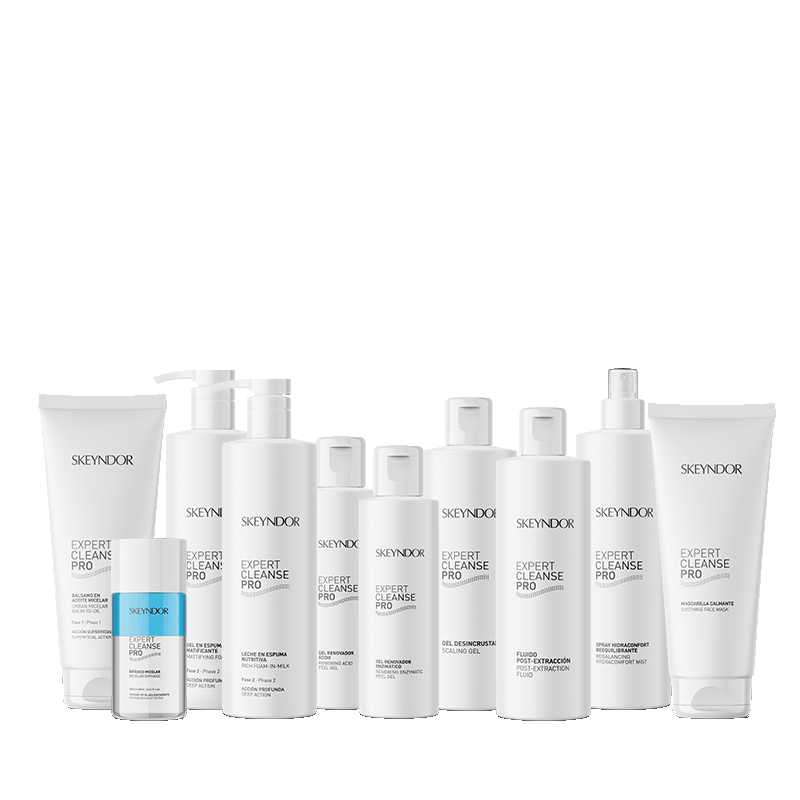 Expert Cleanse Pro – In-Salon Treatment
EXPERT CLEANSE PRO 10-step in-salon treatment.
The expert cosmetics line in facial skin hygiene. Perfect for deep cleansing and preparation of the skin before any facial treatment. A unique combination of skin hygiene and health, together with concern for the environment CLEAN SKIN & CLEAN COSMETIC.
The 100% ECO-FRIENDLY range, containing pre- and post-biotics to stimulate and protect the skin's microbiota. With biodegradable ingredients and recycled/recyclable packaging. Our exclusive CARE CERTIFICATE guarantees our active commitment to sustainable production and packaging.
DESCRIPTION
EXPERT CLEANSE PRO 10-step in-Salon Treatment. Own double cleansing method.
PHASE 1 – DOUBLE CLEANSING METHOD. CLEANSES THE SURFACE OF THE SKIN DUE TO ITS NATURAL EMOLLIENTS THAT FORM MICELLES. Gently and effectively removes makeup by filtering the dirt and pollution left on the surface, while preserving the skin's natural composition. PHASE 2 – DEEP DOUBLE CLEANSING METHOD. DEEPLY CLEANSES THE SKIN WITHOUT DRYING OR DAMAGING IT THANKS TO ITS NATURAL SURFACTANTS. Its extra cleansing power removes dirt, impurities and excess oil that accumulates or becomes embedded in the pores of the skin. PHASE 3 – REBALANCING. REVITALISES THE SKIN, EVENS OUT ITS APPEARANCE AND REBALANCES THE FLORA THAT PROTECTS IT. With the skin cleansed and free of impurities, Phase 3 finishes off the facial hygiene routine.
SKIN TYPE
All skin types
BENEFITS OF THE TREATMENT
Effectively cleans dirt, excess oil and impurities. Leaves the skin in better condition for the following treatment. More effective than the usual treatment. Reduces the appearance of impurities, mattifies the skin and makes it fresher and more comfortable.