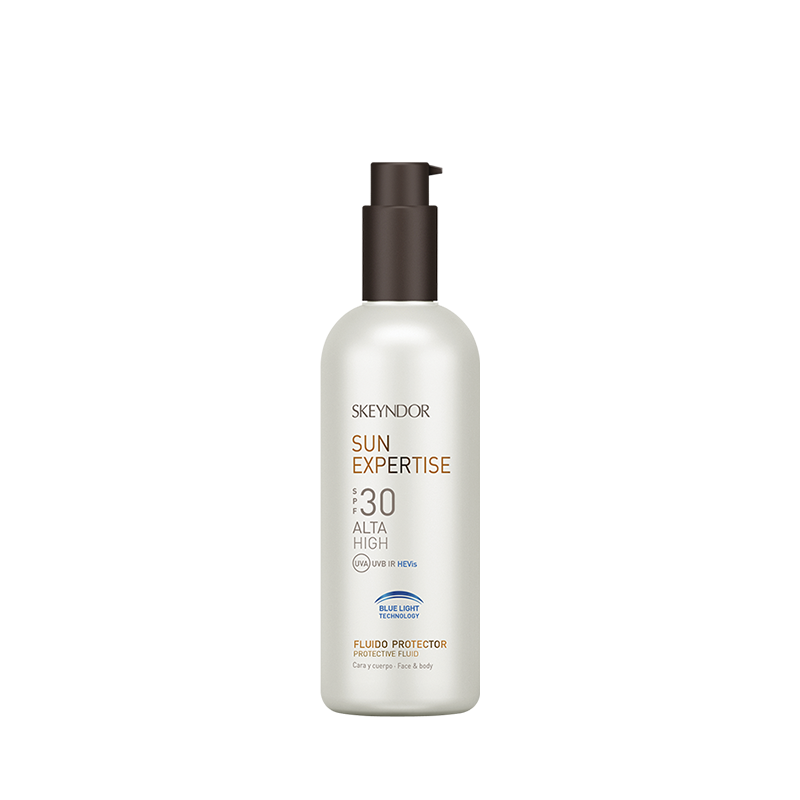 Sun Expertise Blue Light Technology Protective Fluid
Protective sunscreen fluid with high SPF30 protection and SKEYNDOR's exclusive BLUE LIGHT TECHNOLOGY that protects skin from the sun by directly blocking the HEV rays (blue light). Essential for prolonged exposure to the sun. Very broad spectrum protector: UVB, UVA, HEV and IR. Water-resistant, non-greasy fluid.
SUN EXPERTISE Advanced photoprotection technology. Blue Light Technology is a technology that protects the skin by directly blocking HEV light rays, also called blue light; this exclusive technology covers a broader spectrum of the sun's rays, protecting the skin from premature ageing and reducing the risk of unsightly blemishes appearing.
Skeyndor Blue Light Technology has received the prestigious Innovative SME award for its research into blue light.
SKIN TYPE
Ideal for all skin types and ages, especially for prolonged sun exposure.
ACTIVE INGREDIENTS
FP30
BLUE LIGHT TECHNOLOGY
RONACARE® AP
Crambe Maritima Extract
MYO-INOSTOL
BENEFITS OF THE PRODUCT
First photoprotection barrier:
UVA + UVB Filter system that helps preserve skin health and prevents solar erythema (sunburn). Second photoprotection barrier: IR* Protects against photoaging caused by free radicals from UV and IR light. Protects the DNA of stem cells. *Protection against infrared light. In Vitro.
**Epidermal stem cells. In Vitro.
Third barrier: Global anti-ageing action. Prevents the formation of wrinkles and sunspots, as well as loss of skin firmness.
MODE OF APPLICATION
Apply a generous amount (5 g) to each limb or face, and double the amount to the torso, before sun exposure. Avoid contact with eyes. Reapply frequently, especially after perspiring, bathing or drying off.